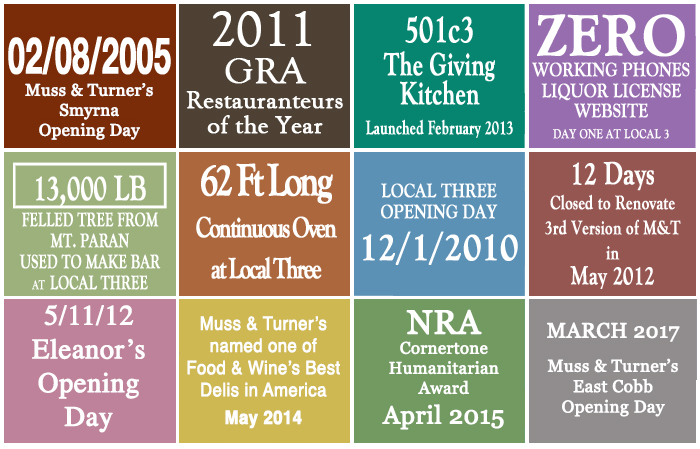 The Beginning
1998 – 2000 – Turner & Muss work together at the Food Studio, former restaurant within Fifth Group. Turner was a server and Muss was a sous chef.
2000 – 2004 – Business planning, consultation with Zingermann's Deli (Ann Arbor, MI), and opening staff assembled.
2005 – 2006 – Muss & Turner's opens in Smyrna, GA on February 8th, 2005. We operate as a neighborhood deli and lunch spot. After a well-received two years Chef de Cuisine David Sturgis leaves in 2006 to become Executive Chef at Farm 255 in Athens, GA.
---
Momentum
2007 – 2008 – Ryan Hidinger becomes Chef de Cuisine. Beer & Wine Bar and dinner service is added. Patio awning constructed for outdoor service.
2008 – 2010 – Chef Chris Hall joins Todd and Ryan to begin planning what will become Local Three.
---
Growth
DECEMBER 2010 – Local Three opens in Joel Antunes' former Buckhead location. The kitchen is a two-story bonanza treasure chest of tools, appliances, and opportunities.
2011 – Ryan Hidinger steps down to opening sous chef to commit time to opening STAPLEHOUSE. Dameren Parenteau steps up to Chef de Cuisine at Muss & Turners.
2012 – Muss & Turners expands into the suite next door to create the speakeasy-inspired, Eleanor's. Advisory Board for the Unsukay Community of Business is formed.
---
Shock, Response, Inspiration, and Slow & Steady Growth
December 2012 – Ryan Hidinger is diagnosed with Stage IV gallbladder cancer. TEAM HIDI is born and immediately pools the collective resources of the Atlanta restaurant community to benefit Ryan. (We are still overwhelmed by the generosity of the city!)
2013 to Present – We signed a partnership agreement with Chris Talley; signed a lease for Common Quarter; promoted long-time family member, Jason Sandmann to GM at M&T; requested a major loan; launched a 501c3 (The Giving Kitchen, inspired by the Team Hidi efforts and outpouring of support); created a partnership with Ryan and Jen Hidinger and started lease negotiations on their dream location for STAPLEHOUSE.