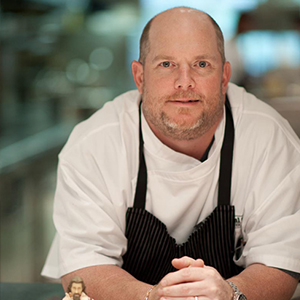 Ops Dude
Culinary Program
Beverage Program
Internal & External Hospitality
Communications & Marketing
Guest Satisfaction & Loyalty
Community Relations
Chris Hall is clearly the most rakishly handsome and debonair of the three Unsukay Partners.
His story begins right around the corner from Local Three at the Pizza Hut on Collier Road, where he worked as a teenager. Somehow, the magical smell of pepperoni and yeast lured him in, and 25+ years later he is still at it. Either that, or he is just too dense to figure anything else out…. So he threw some pizzas and moved up the proverbial ladder, eventually landing, while in college, at Philadelphia's famed Lec Bec Fin, where he was begrudgingly taught to cook by an angry Frenchman and his minions. It was a kitchen ripe with talent (and he was too dumb to be scared), so he set off to learning and taught himself how to cook. Some folks, including a few dining critics, claim he never learned to cook, but undaunted, he still kept trying.
Hall eventually headed home to Atlanta in search of bourbon and a Southern Belle. He found both and is still in love with both to this day. He landed at Canoe on his return and and cut his teeth with Gary Mennie, George McKerrow, Ron San Martin and the gang by the river. It was an amazing time at an incredible restaurant and the most formative of his cooking years; but he always knew he wanted his own place, and if nothing else, to cook what he wanted, however he wanted, whenever he wanted. So after meeting Turner and Muss, a fast friendship formed and they began talking about a partnership. It was a long winding road to eventually get there, but the seed for Local Three was born. Years later, they opened Local Three to a swell of critical and guest acclaim and the rest, as they say, is history.
Now you can find Hall mentoring cooks and doing what he likes most: working on the creative aspects of Local Three, Warhorse Investments and Unsukay. His true passion these days is to help people in much the same way people helped him in his career. He loves to coach and mentor and is still entranced by the machinations of the restaurant business.
Hall actively participates in a number of charities and is Vice Chairman of the Giving Kitchen. In 2015, Chris, Ryan, and Todd were named Cornerstone Humanitarians by the National Restaurant Association's Educational Foundation for their role in kickstarting the Giving Kitchen. In 2019, the Giving Kitchen was named Humanitarians of the Year by the James Beard Foundation.
He out-kicked his coverage by a long way and has been married to his wife Julie since 2000. They live in Smyrna, and when he is not in the restaurants, he is golfing, crashing around the woods, shooting at things, and generally acting the fool. Hall loves both kinds of football, round and oblong, and is obsessed with Atlanta United, Arsenal winning the Premier League, and Georgia Tech winning a national championship. He likes breaking 80 on the golf course, Dusty Rhodes, the Dude, a great bottle of wine, a fine cigar, brown whiskey, piña coladas and getting caught in the rain…… But most of all, he is incredibly grateful for the staff, guests, and friends, old and new, who keep the company going.
Keep in touch with Chris: