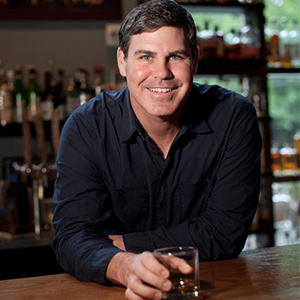 Business Dude 
Vision
Strategic Growth & Planning
Guardian of the Unsukay Culture
Financial Optics and Planning
Leadership Development
Community Relations
Stakeholder Relations
Legal & Governmental Compliance
Advisory Board Liaison
Ryan Turner is usually referred to as the Business Dude.
Since college he has worked in every role in a restaurant from dishwasher to bartender. Turner was the food & beverage manager at East Lake Golf Club prior to cutting his "business teeth" by opening Muss & Turner's in February of 2005. Since signing his first lease he has been drinking from a fire hose, adjusting and adapting on the fly. Turner has stared down financial disaster multiple times and is eternally grateful to have experienced the not-so-gentle cupping of the Great Recession so early in his business career..
Turner spends his time managing Muss & Turner's, our Back Office Support team, Marketing / PR and Group Dining sales as well as running point on real estate, legal and financing.
Turner serves as Board Chairman of The Giving Kitchen and was the 2015 Board Chairman of the Georgia Restaurant Association. Turner was named the 2014 Business Person of the Year by The Metro Atlanta Chamber and the Atlanta Business Chronicle in the Experienced Entrepreneur category. He was named a Who's Who in the Atlanta Business Chronicle's 2016 Hospitality Quarterly.
He and his partners were recognized as the Georgia Restaurant Association Restaurateurs of the Year in 2011. In 2013 they received the GRA's Restaurant Neighbor Award for their involvement in founding and launching the The Giving Kitchen. In 2015 the Unsukay partners were awarded the National Restaurant Association's Cornerstone Humanitarian Award.
Originally from Maine, he attended the University of Vermont, did a term of service with Americorps along the border of Mexico, carpetbagged his way to the Atlanta in 1995, looking for a Georgia Peach, a job, and some warm weather (in that order). He ultimately found all three and now lives in Smyrna with his wife, Shelley, and two children.
Keep in touch with Ryan:
Articles Written by Ryan:
"So You Want to Open Your Own Restaurant?" – Georgia Restaurant Forum Magazine, May/June 2010
"Leadership Retention" – Georgia Restaurant Forum Magazine, April 2010
"Inspire Guests with your Wine & Beer List" – Georgia Restaurant Forum Magazine, July/Aug 2010
"Do You Get IT" – Restaurant Informer Magazine
"Why Give A S…" – Restaurant Informer Magazine
"How Business Owners Can Make the Most of 2015" – Atlanta Business Chronicle, Jan 2015
"Restaurant Community Gives Back" – Atlanta Business Chronicle, Feb 2015
"UGA Report- Outlook strong for state's small businesses" – Atlanta Business Chronicle, July 2015
Ryan in the Press:
"Restaurant hiring is booming, even as fewer Americans are dining out." – Washington Post, November 2014
"Eat Drink Enjoy" – Georgia Trend, March 2015